Prem and Satpal Rawat After 40 Years of Meditation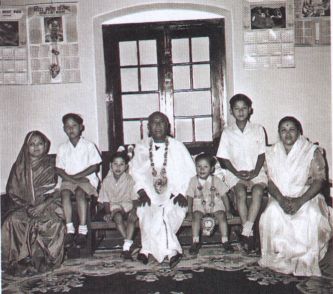 In January, 1964 Hans Rawat, the father of Prem Rawat, who claimed to be the Satguru, "revealed Knowledge" to the four sons of his second, much younger wife including the eldest, Bal Bhagwan Ji (Satpal Rawat) and the youngest, Balyogeshwar or Sant Ji (Prem Rawat). Prem Rawat claimed he "realised it" in a month of meditation. The techniques of Rawat's meditation are simply sticking your fingers in your eyes, poking your thumbs in your ears, curling your tongue backwards and concentrating on your breath.
Meditation is ordinarily claimed to have many valuable physical and mental health benefits and it is instructive to see what effects nearly fifty years of meditation has on the Rawat family gurus. The photos below show the possible side effects of practice of this meditation. On the face of it, the results of Tibetan Buddhist meditation seem far better than those of Rawat meditation. It is also instructive to see if this meditation has any visible effect on Rawat's Western students after up to 40 years of meditation. While most people who have been "revealed this Knowledge" have become disillusioned with it there are a few thousand true believers who continue to believe in Rawat. See for yourself.
With obesity being the number one health risk in modern, western societies it is obvious that the Rawats' "Knowledge" is a danger to health no matter who is revealing it. Both brothers claim they are the true revealers of these techniques of meditation but both are extremely obese and their faces are bloated with fat and their skin in unretouched photos looks awful. There's no respect for Prem in his physical life.
Actor Richard Gere has been meditating for almost 35 years. Some may consider it unfair to compare the results of meditation on the health and appearance of a Master like Prem Rawat and a Hollywood actor even though the actor is 8 years older so there are also photos of Prem Rawat and the Dalai Lama, a man 22 years older who has had an extremely stressful life, to compare the observable effects of their meditation.
Prem Rawat was born into a wealthy Indian family and has been cossetted throughout his life since he was declared the current Perfect Master and Lord of the Universe with donated wealth, luxury and numerous servants. The Dalai Lama is a man 22 years older who has had an extremely stressful life which included an escape on foot across Tibet being pursued by Communist Chinese troops.
Seems pretty straightforward to me.