This 1998 Visions International 100 page glossy coffee table book (34cm x 28cm) contains a picture of Prem Rawat or Maharaji as he calls himself on nearly every page and some of his father. There is some text and a lot of white space. There are photos of him as a boy in India up to 1998 when it was published. Despite his alarming ugliness he obviously loves posing for the camera and often chooses a look that would be appropriate for a male model in a fashion magazine. It is not a pretty look.
---

m a h a r a j i
Foreword
There is a human story that may never have had a beginning and may never have an end. It is the story of the quest for fulfillment. for happiness, for a simple peace. On that vigorous journey we have examined with passion and dedication everything that is around us. We have danced among the stars and upturned almost every stone on this earth, our home. And still we search, hoping that the triumph of our next discovery may bring a more lasting fulfillment.
Maharaji has always pointed to an inner journey.
As you turn the pages of this book, you will see images of Maharaji from the time he was a small child. Every picture represents an era in which he has addressed people on the subject of life. His message has never changed: "All the love, all the freedom you have wanted, lies within."
We talk about world peace.
Peace needs to be felt in the heart of every human being because that is where it belongs.
The world would not have half it's problems if we understood what we need to understand is within us.
I come with no solution to the world's problems.
I come with nothing new to tell you.
Instead, I come to tell you one of the things you have known for the longest time.
That which you are looking for, that which you love and admire, is within you.
Wembley Stadium, England, June 22, 1997
Life has a meaning, a motive. There is nothing greater than life ttself.
Life is more precious than all the money in the world, more precious than anything.
Yet what is the purpose of life? What do we actually do with it?
What have we understood?
When we accomplish the purpose and realize who we are – not in theory, but in reality – it is gorgeous.
Concepts stop. Our expressions are accurate. The love is real.
It is as though the whole rose blooms – not one petal, not two petals – bu the whole rose opens up.
All of a sudden, in the darkness there is light.
Denver, Colorado, USA. February 23, 1979.
For all of us who are alive, life is the real issue. Yet so often we judge our existence by the things that happen to us – by whether things are going our way or not.
Sometimes we feel strong, strong enough to dictate our future.
Sometimes we feel that can make hope, that we can make things happen.
Then there are times when we feel totally helpless, when we feel very small.
Powerless.
But through feelings, through understandings, through all the dramas and bumps, there is life.
There is the very powerful, very incredible existence of every single human being.
Toronto, Ontario, Canada. May 27, 1994.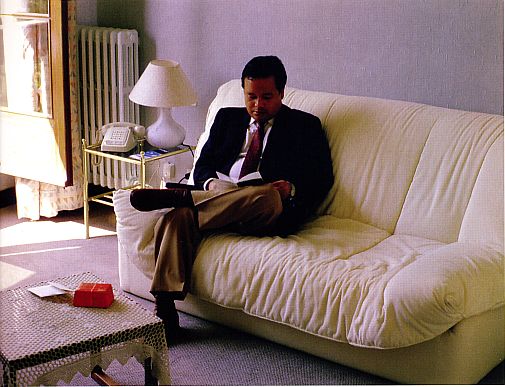 When you look at a sunrise, you do not have to be holding something in your hand to appreciate its beauty.
Nor when you see a sunset do you have to be thinking about something to appreciate its beauty.