FOUR
THE GOLDEN AGE
NO. 20 MAY, 1975
---
INTERNATIONAL
Sri Hans Yog Sadhana Kendra
There are only a handful of Divine Light Mission ashrams in India, as most of the premies are householders. In most of the town and cities the Mission has an office where one or two Mahatmas stay.
In the northern state of Bihar, there is an ashram at Patna and one at at Jhumari Tilaia. Bihar is the most highly premie populated state in India and also one of the poorest, most undeveloped regions. Consequently, most of the premies are simple people who have received little or no education and exist on a subsistence level.
Patna, the largest city in Bihar, is the home of the Prem Bhawan ashram, which houses a dozen premies and one or two Mahatmas. The large premie community gathers together once a week for satsang in the ashram grounds. On Sundays from 1 - 5 pm, the satsang program is accompanied by music and dancing. Public programs are held daily in a large public area in the centre of town called Gandhi Maidan. Up to 300 people attend this program which is conducted by Mahatma Dipanand and a premie called S.S. Prasad. Also in Patna, the Bihar premies' magazine Udgar (expression) is published.
Jhumari Tilaia is a day's journey south of Patna and a few miles out of this town is the Sri Hans Yog Sadhana Kendra (Shri Hans Yoga and Meditation Centre) ashram. This is the Mission's newest ashram and it is situated on several hundred acres claimed from the jungle. As well as being the largest in area, the ashram houses at least a hundred premies, men, women, children and half a dozen Mahatmas in residence.
Guru Maharaj Ji visited the ashram site in March 1973 before construction had begun and gave directions for the establishment of a hospital, a university, a very large satsang hall, and buildings for accommodation and administration. It is also planned that an international airport will eventually be built here.
According to the Mundaka Upanishad there are two types of Knowledge which should be obtained: Knowledge of the changeable and the Unchangeable -material and spiritual Knowledge. It is proposed that Sadhana Kendra will be a place of instruction in these disciplines for people throughout the world.
Progress has been quite startling. Local people considered the area as almost useless for cultivation but under Mahatma Gyan Vairaganand's guidance crops of wheat, rice, peanuts, potatoes, tomatoes, radishes, sugar cane, carrots, cauliflower and peas have already been harvested. So far a large two storey ashram and several minor buildings have been erected. Deep wells and a dam have been dug for irrigation and keeping cows. The ashram has become virtually self-sufficient.
Premies and Mahatmas work side by side, exchanging the occasional bit of satsang, from the early hours of the day until well into the night. Service starts for most premies at 7 a.m. Yet Sadhana Kendra is really a timeless place; being separated from civilisation by several miles and having many clocks and watches all showing different times. Most things run according to a gong struck at various irregular intervals. The first service period in the morning continues until the breakfast gong is struck at 10 a.m. The main services are making mud bricks, building construction and working in the fields.
Brickmaking is a big job which requires the service of many premies. The clay is carved from the earth, mixed with water and stamped into a cohesive mixture. It is then carried on stretcher-like instruments and piled in long rows where it is cast in wooden moulds bearing the letters DLM, Hans or SK. The bricks are then left in the hot sun to dry. When partially dry they are piled into walls to dry further. Finally they are assembled in the form of a pyramid with coal for firing interspersed between layers. Firing lasts for days until all the coal has combusted and the bricks have been baked a hard red.
The ashram food is typical Bihari "poor man's food." Breakfast consists of moolee and suttu- a giant radish (about a foot in length and two inches in diameter) and a rockmelon-sized ball of indigenous Bihari sustenance comprised of five kinds of roasted flour congealed with water. The moolee and the water aid the digestion of the suttu. The lunch gong sounds at about 1 p.m. The premies leave their service, have a cold bath and sit down to very large helpings of curried rice, boiled radish leaves and potatoes. The evening meal at about 10 p.m. is chappatis and sabjee (curried vegetable).
Almost all work at Sadhana Kendra is done by hand. The fields are tilled by ox-drawn wooden ploughs. Some of the younger members of the ashram (10 - 12 years) maintain a shrill sound of voices which keeps herbivorous birds at bay. At night, sentries clang tins and let forth piercing cries into the surrounding jungle. If left unguarded, the crops would soon be ravaged by wild boars and jackals.
The premies put a great deal of effort into their service; they try to offer it from their heart. Guru Amar Das sold, "through service of the Guru is spirit purified and cleansed of dirt and dust, then die a living death by merging in the Lord." It's an impressive sight to see men, women and children working with the same vigour and dedication all day. There is an all-pervading feeling of unity and singlemindedness. Smiling faces and joyful laughs reflect the detachment and calm the premies experience. Mahatma Gyan Vairaganand constantly inspires the premies to be more sincere in their service to Guru Maharaj Ji. He says that it is only by doing service will we become stronger in our devotion and gain the stability of mind necessary for meditation.
NO. 20 MAY, 1975
THE GOLDEN AGE
FIVE
---
---
There is no regular satsang at Sadhana Kendra. Occasionally at Arti at 5.30 am and 8 pm, Mahatma Ji will give some satsang and distribute love, prashad and occasionally clothes to the premies. He is like a father to them all and everything functions smoothly and efficiently ender his guidance. The ashram premies are unskilled people yet their buildings are strong and architecturally sound - except for key joints everything is held together with mud and Grace.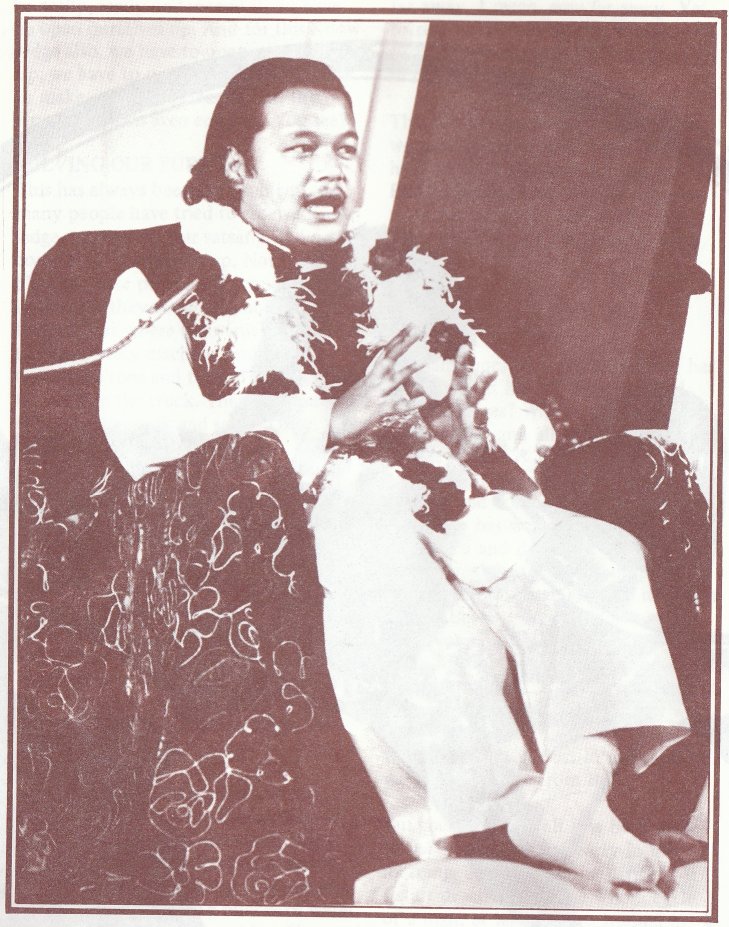 Mahatmas come and go on their propagation tours throughout towns and villages and the ashram remains like a lotus, untouched by the world. There is no time, no news, no worries, no blues! Household premies have given donations to purchase a tractor. A truck, a car for Guru Maharaj Ji, a car for Mahatma Ji and a van for premies have already been bought in ibis way. Although the premies are poor, there are so many of them (millions) that the small amount each can give totals to a large sum.
Sri Hans Yog Sadhana Kendra is an example of what can be achieved through the experience of Guru Maharaj Ji's Knowledge. What has been done so far in such a short time in such a desolate place has aroused the interest of all the local inhabitants. If things continue in this way it is bound to capture world-wide interest. Meanwhile the premies continue merrily in their service. "Where abideth the Lord of the Universe, there ringeth an eternal melody, serene like silence (Guru Arjun).