Soul Rush
Yes we're going down to Houston
Yes we're going down to Houston
Gonna see our Lord come flying in
There'll we think you'll wanna be there
Yes we think you'll wanna be where
Our Kingdom of Heaven will begin
This is a festival that's gonna be happening in Houston (uh huh) a three day festival, big, huge spiritual festival lots of people are gonna like not only gonna be like working for peace but they're experiencing peace right now, you know
Well we're coming from the East Coast
And we're coming from the West Coast
And we're come from each land across the sea
Cause there's nowhere else to go
And there's nothing more to know
And there's no place on earth
I'd rather be
Michael Nouri in his greatest ever role: sincere spiritual seeker.
Dancing Slightly Crazed Hippie Girl: Incomprehensible Excited Chatter about America being free
Black Man: God Bless, God Bless America
Dancing Slightly Crazed Hippie Girl: America's really gonna be free now. Come see the Lord. Come.
Black Man: Yes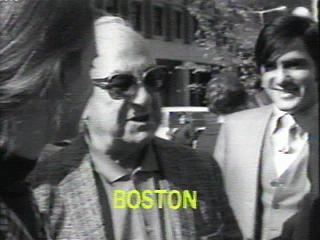 Older Boston Local: I'm telling you they got something. First I wanted to know if Madison Avenue promoted this and they say "No." They say that they're promoting this deal themselves and that's why I say the enthusiasm that I saw with these people here today is understandable Bill, it's it's you gotta go along with it that's all because they can't be, all these people can't be outa their nuts to follow inna this kind of a deal and uh just let it go at that. (A million Frenchmen can't be wrong, eh?) They can't be all crazy.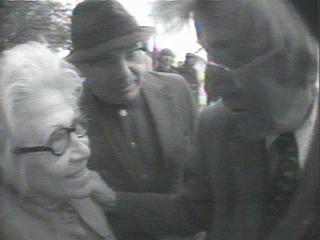 Famous Mature Lady Premie: I was very happy, I had a family, beautiful children, grandchildren, I have 14 grandchildren, very, very happy. Beautiful husband, beautiful friends, I didn't realize I was searching really but I am through searching, I found that thing that we're all searching for. Ironic Old Guy: 71 years, I haven't seen it yet. FMLP: You will IOG: I'm past 71. FMLP: You will IOG: All right. FMLP: You will just by you're being here, you'll know IOG: I'm willing to hear it but nothing's finding me no peace cause what good is this what good is this all Old Lady Stage Left: How did he get, I'd like to know is how did he get so many people to follow him. IOG: Well? FMLP: Because he gives that true experience of God. He gives a true experience of God. You'll see light, you'll hear music, you'll taste nectar and you'll feel the Word, he uplifts us. He is baptizing us in the Holy Spirit. IOG: He probably has something there. FMLP: This is the day that we have been waiting for, that day we have been waiting for, OLSL: They think he's another Jesus FMLP: He's come, he's here. IOG: Look we had a man up in New York, Father Divine too he didn't last long FMLP: This will, just you wait and see IOG: I'm listening, I'm listening Male Premie Who Butts In: There's a book out FMLP: How can you believe in God unless you experience God MPWBI: There's a book out FMLP: and He gives us a true experience of God MPWBI: Who Is Guru Maharaj Ji? IOG: Look you believe in God if you can see things happening but when you see what's happening MPWBI: So when you test his Knowledge FMPLP: You need proof, right? MPWBI: you'll know who He is. OLSL: That's Beautiful IOG: I don't believe in anything else When you see that light IOG: I always say MPWBI: and you feel that word FMLP: Beautiful, beautiful MPWBI: and hear that music and you taste that nectar MFLP: you'll see this happen MPWBI: then you know FMLP: You'll feel it
Oh I was a housewife, President of the Country Club, volunteer tutor, oh and the League of Women Voters, many things." "How do your friends relate? …" "Oh yes, five of our friends from the Country Club have received Knowledge.
Famous Mature Lady Premie: Oh I was a housewife, President of the Country Club, volunteer tutor, oh and the League of Women Voters, many things." "How do your friends relate? …" "Oh yes, five of our friends from the Country Club have received Knowledge.
"Maharaji videos" usually have scenes of "beautiful people" premies. Back in 1973 it was rare to find old people so this older and very enthusiastic lady devotee was often pictured. She appeared in the "Festival of Knowledge" video from Brussels, Belgium, 1989. As time has passed most premies are now around 65 (2015) so it's rare to find young people in the audience.
Singing:
If you want to go to heaven, Guru Maharaj Ji takes you there
If you want to go to heaven, Guru Maharaj Ji takes you there
If you want to go to heaven don't die in despair
Guru Maharaj Ji will take you there
"This year the most Holy and significant event in human history will take place in America." - Guru Maharaj Ji aka Prem Rawat
Crawler (if necessary): I'd crawl across three continents on my hands and knees to eat the dust off Guru Maharaj Ji's feet if necessary."
Premie, Lover of God, A disciple: I don't do anything. You know, I as a human being don't do anything, you know Guru Maharaj Ji does everything. I don't do anything, what do I do? You know. Guru Maharaj Ji, really from my own experience, this is not a philosophy, from my own experience, Guru Maharaj Ji is doing everything. He is the Doer of everything in this world."
"I would like to bet anyone who wishes to try and make some green energy that by November 15th, the Houston Astrodome will physically separate itself from the planet which we call Earth and will fly."
Rennie: You know you see this Astrodome and uh the more time we've spent in here the more we realise that it really was built for this event. Have you ever, have you been in the celestial suite or heard about that?" "No, what is it?" "Well the Astroworld here, see that whole uppper part there, on the top, the elevator goes up to the green and all the think, that's called the Celestial suite and that's where the Holy Family will stay and the bedroom where Guru Maharaj Ji will sleep is called the Master Bedroom." "Oh wow!" "There's a little, wooden plaque and it says 'Master Bedroom' and then you walk into the master bedroom
Rennie (1971):And the message is that you know we've had it, you know it's too much and uh come May 1st uh we're issuing an ultimatum to uh to Richard Nixon as as people all over the world issue their ultimatum to to Richard Nixon too and uh our ultimatum is if the government of the United States doesn't stop the war then then we're gonna stop the government of the United States.
---
Rennie (1973): You look back at your lifetime and you sort of feel like what you're doing now in Divine Light Mission is what you always wanted to do and it's rather like everyone sort of feels like every like whatever it was we were doing in the past, we're doing now and I'm rather getting that perspective about the whole generation that the vision we proclaimed in the streets of this country in the 1960's is actually what we're going to do now in the 70's and the 80's and it's actually going to be the generation of the 60's that is actually going to carry out this, this incredible change that we're talking about so people say well it's a big break with the past and do you look back at the past with regrets you know but I don't look at the past with any regret at all you know I just think it was really all a a warm-up you know and the political and cultural revolution it was just like, like I say a warm-up for the greatest transformation in the history of human civilisation and it's going to be far out."
Guru Maharaj Ji arrives at the rarely used William Hobby Airport by car as authorities at Houston airport refused to allow 2,000 premies to greet him there
The Lord of the Universe
Has come to us this day
The Lord of the Universe
Has come to us this day
And He's come to show us Light
And He's come to show us Love
And He's come to show us the Way
Back to our Father.
Bolie Shri Satgurudev Maharaj Ki Jai
Guru Maharaj Ji: This is just about the time that everybody comes together and understands who is God because I guess there have been too many of these phony things going around these world. Ah, messes like Watergate and things like that but it's just not America, it's right around the world, you can't just blame just one country for it. And I guess this is just about time that everybody gets together and understands who is God because it's important that people know God by now, at least. (knowing laughter in crowd)
"Those premies who came in private cars, you can leave immediately, premies that came in the buses we rented should stay here and remain here and meditate until further instructions. Stay seated" Me, me!" "Please! Please!" "You know who touched this flower, the Lord of the Universe. Touch it. A flower." "All the premies on the stage crew who had put up the stage please report to the back of the stage now."
Astrologer: People are going to come here with incredible negative pre-determined notions and they're going to go away spaced out and blissed out and really turned on. Anybody who's exposed to this vibration cannot fight it because it's stronger than anything, you know, the vibration of Guru Maharaj Ji is stronger than anything that has ever, that has ever been known. There's a rumour going around that NASA is tracing and following him around the country because his energy level is stronger than anything they've ever seen before.
Mahatma: This place has been built up for Guru Maharaj Ji. Specially (knowing laughter) cause He's going to convey the message of Truth from this place
Knowall: Not one person getting paid money cash for this work he's doin'. If you took a million dollars and came up to some person and said "Build me a magnificent stage. I want it right out of the Bible and I want it put up in two days." The guy would say "Impossible. Impossible for a million dollars. Inmpossible. yet here's people doing it, for not for nothing because it's beyond nothing, it's beyond any monetary thing this thing that Guru Maharaj Ji can give to people and does give to people.
Hard hat worker: "Like I'm I'm so I can't even tell you how high we are now. You understand. Like I I dropped 3,000 micrograms of acid one time and I've I'm so high now I was never as high then as I am now and this is natural, this is pure.
Guy with Unhappy Parents: Before I came to Guru Maharaj Ji I was a freak, smoking dope, dropped out, completely and my parents are more happy with that than they are with this.
Guy in cap: Before I came to Guru Maharaj Ji I was defintely searching for something you know beyond this material plane because I'd realised that I there was nothing more that I could you know attain here. I had everything materially that I could gain, that I wanted and there was nothing left except to find that Knowledge of God.
Guy on the Eve Of Destruction: We were into politics, we were into you know drugs you know a lot of these different different aspects of a counter culture. Trying to could change what we thought was innately wrong with this country, what was innately wrong with the world you know we'd been handed something in this world and we didn't like it you know. We really, like our parents gave us this world and it was it wasn't good you know. It was like the only thing we had to look forward to was total destruction in our lifetimes which wasn't really much to look forward to.
Curly Headed Guy: My mother especially feels I should go back to school and do something that's truly worthwhile but ah I've been trying to tell her that uh that's the reason I left because there was nothing in school you know economics you know that I couldn't find that peace that I've (She wants you to get a job) yeah a job you know move out to suburbia you know the whole scene.
Guy in cap: The thing that I've exerienced with parents is that their biggest worry is that Guru Maharaj Ji gives you more love than than they can and that worries them because you know they're losing their footholds, they're realising that they're only our physical parents, you know they're not really you know our spiritual parents and they're realising that Guru Maharaj Ji is offering something more than they can offer and this is the love that never stops, that never ceases.