Soul Rush starring Michael Nouri in his greatest ever role
Rennie Davis came late to Divine Light Mission becoming involved only in January 1973 but with his gift for self-promotion he quickly became part of the powerelite. His fame and expertise lay in organising rallies and public protests. He brought these methods with him but unfortunately a meaningful rally requires a very large number of people committed to the cause else it becomes a humiliating damp squib and even in late 1973 Divine Light Mission did not have such numbers. "Soul Rush", like so many other of Davis' contributions to Divine Light Mission activities were hollow and meaningless and did nothing but involve premies in useless make-work and attracted little public interest.
Soul Rush, a pilgrimage for peace and an invitation for all Americans to come to Millennium '73 in Houston, took off with a rousing start in Boston on Oct. 24, then swept on to Plymouth, Philadelphia and Washington D.C. with the message of the advent of real peace on earth. - Divine Times
Rainbow coloured buses and 500 premies travelling down the East Coast of the USA was not enough to attract 144,000 people to the Houston Astrodome but no doubt it helped strengthen the beliefs of some of those premies because once they got to Houston they would need it. As these photos indicate they could attract the short term attention of sone older people with time on their hands.
Yes we're going down to Houston
Yes we're going down to Houston
Gonna see our Lord come flying in
There'll we think you'll wanna be there
Yes we think you'll wanna be where
Our Kingdom of Heaven will begin
This is a festival that's gonna be happening in Houston (uh huh) a three day festival, big, huge spiritual festival lots of people are gonna like not only gonna be like working for peace but they're experiencing peace right now, you know
Well we're coming from the East Coast
And we're coming from the West Coast
And we're come from each land across the sea
Cause there's nowhere else to go
And there's nothing more to know
And there's no place on earth
I'd rather be
Michael Nouri in his greatest ever role: sincere spiritual seeker.
Dancing Slightly Crazed Hippie Girl: Incomprehensible Excited Chatter about America being free
Black Man: God Bless, God Bless America
Dancing Slightly Crazed Hippie Girl: America's really gonna be free now. Come see the Lord. Come.
Black Man: Yes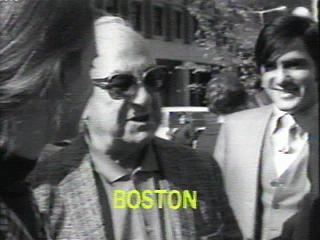 Older Boston Local: I'm telling you they got something. First I wanted to know if Madison Avenue promoted this and they say "No." They say that they're promoting this deal themselves and that's why I say the enthusiasm that I saw with these people here today is understandable Bill, it's it's you gotta go along with it that's all because they can't be, all these people can't be outa their nuts to follow inna this kind of a deal and uh just let it go at that. (A million Frenchmen can't be wrong, eh?) They can't be all crazy.
Famous Mature Lady Premie: I was very happy, I had a family, beautiful children, grandchildren, I have 14 grandchildren, very, very happy. Beautiful husband, beautiful friends, I didn't realize I was searching really but I am through searching, I found that thing that we're all searching for.
Ironic Old Guy: 71 years, I haven't seen it yet.
FMLP: You will IOG: I'm past 71. FMLP: You will IOG: All right. FMLP: You will just by you're being here, you'll know IOG: I'm willing to hear it but nothing's finding me no peace cause what good is this what good is this all Old Lady Stage Left: How did he get, I'd like to know is how did he get so many people to follow him. IOG: Well? FMLP: Because he gives that true experience of God. He gives a true experience of God. You'll see light, you'll hear music, you'll taste nectar and you'll feel the Word, he uplifts us. He is baptizing us in the Holy Spirit. IOG: He probably has something there. FMLP: This is the day that we have been waiting for, that day we have been waiting for, OLSL: They think he's another Jesus FMLP: He's come, he's here.
IOG: Look we had a man up in New York, Father Divine too … he didn't last long …
Singing:
If you want to go to heaven, Guru Maharaj Ji takes you there
If you want to go to heaven, Guru Maharaj Ji takes you there
If you want to go to heaven don't die in despair
Guru Maharaj Ji will take you there
"This year the most Holy and significant event in human history will take place in America." - Guru Maharaj Ji aka Prem Rawat

Crawler (if necessary): I'd crawl across three continents on my hands and knees to eat the dust off Guru Maharaj Ji's feet if necessary."